Diplomas in Various Allied Health Technologies
SHAHIDA ISLAM PARAMEDICAL SCHOOL LODHRAN
Affiliated with
The Punjab Medical Faculty Lahore
VISION
To develop highly qualified technical staff able to bring positive change in the health care outcomes and who will transform the health systems through service, discovery, and knowledge.
MISSION
The SIPS mission is to work for the betterment of local, regional, and global health care to enhance individual and community health by preparing quality health care personnel for the entire country and abroad.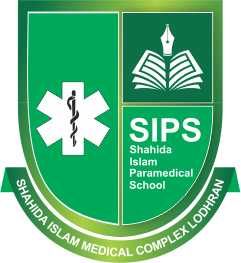 Programs with Duration
Dispenser = 1 year
Medical Laboratory Technology= 2 years
Radiography and Imaging Technology= 2 years
Physiotherapy Technology= 2 years
Ophthalmic (Eye) Technology= 2 years
Public Health Technology= 2 years
Operation Theatre Technology= 2 years
Dental Technology= 2 years
Timing
Full time (8 am to 3 pm)
Dress Code
Female: Sky blue shirt, white trousers, white doppata, black shoes, black socks, and black shoes without heels.
Male: Black trousers, sky blue shirt, black shoes, black socks and black shoes without heels.
In winter: dark green coat/sweater/jersey
Eligibility
Admission Annually purely on merit as per Punjab Medical Faculty timeline. 
Age 15-35 years.
Matric Science (Second Division) with Physics, Chemistry, and Biology having minimum 45% marks.
Students who have passed F.Sc premedical will be preferred.
Hostel Facility
Hostel accommodation is subject to availability at the time. Priority is given to candidates from outside Lodhran. Students residing in the hostel must strictly follow the rules, regulations, and timings. Students should get permission from the warden to leave the hostel. The use of electrical appliances like electric iron, fridge, air-conditioner, etc., is subject to prior permission from the principal and carries additional notified charges.
Fee Schedule
The student enrolment and examination fees are charged by the affiliating PMF and are payable strictly according to the PMF schedule.
These fees are subject to change as per policy.
Any delay in payment beyond the due date will be fined according to PMF late fee schedule.
Tuition fee as per institutional policy with annual increase as per devaluation of the currency.
The tuition and hostel fees are charged on an annual basis.
Fees and other charges are payable in advance before the start of the academic session.
Applicants should seek clarification about fees/other dues from Admission Office.
Students defaulting in fee payment may be suspended and/or barred from the classes and examination until the clearance of dues per college policies.
Students will not be allowed to appear in any final examination until all outstanding dues are fully cleared before the examination's registration deadline.
Mess charges by the boarders and transport charges by the day scholars will be paid in advance monthly.

SIPS IS THE PATHWAY TO A BRILLIANT CAREER IN FIELD OF ALLIED HEALTH SCIENCES