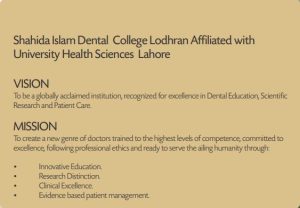 Shahida Islam Dental College offers an avant-garde
educational environment in the field of dentistry. The college's primary focus
is on distinguishing dental education, high-quality research, patient
management, and community service.
The college provides the best facilities in the area for
both the students and the patients. The highly qualified teachers and
clinicians are fully motivated to deliver the best possible teaching and
patient care opportunities. The main focus of the curriculum designing and
delivery is being shifted to student-centered, problem-based learning to
produce the best among the rest.
The college achieved the top ranks in the PM&DC 2019
inspections. This resulted in a new motivation in the faculty and staff to
strive further to make this an internationally accepted institution. The
college has infrastructure and equipment the best available in South Punjab.
Fee Structure BDS: click here